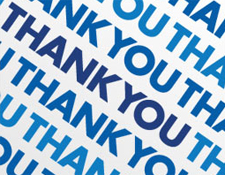 An envelope stamped CONFIDENTIAL arrived in my home mailbox today from my company's Human Resources Department. Inside is a "Personal Earnings & Benefits Statement," a pamphlet that lists my annual salary, 401k contributions and the cost (to them) for all of my benefits.
While a convenient "stat card," I'm not sure what the purpose of this mailing is. Oh wait. I think I DO know. It's propaganda.
The final page includes my "total compensation," a figure that adds items like my 12 vacation days and 10 paid holidays to my salary. The number is displayed in bold at a larger font size than everything else.
The point they are trying to make is you think you make X but you're really making Y. You should be grateful. Look how generous we are.
And I AM thankful to be gainfully employed, making an honest living. However I'm not a child. I don't need to be reminded that my "compensation does not mean salary alone."
Is this a foreshadow of miniscule raises? Or perhaps no raise at all? I'd bet on it.
Ironically, this compensation snapshot has had the reverse affect on me.
1) I'm actually earning less a year than I thought!
2) I realize that I am less of a drain on the company that other people. I have declined their medical insurance and started work after the pension program was frozen. I wonder if these points can be used in salary negotiations (thoughts?).
3) I don't appreciate the fact that all of this sensitive data is sent via mail. There's no need to risk my neighbors learning what I earn, what my job title is, or how long I've been with the company.
Should I expect everyone to have a little extra pep in their step after this reminder of how generous our employer is? I can already see the line forming outside of HR to thank them for their generosity.
I also find the timing of the mailing quite random. With tax season winding down in a few hours, it seems odd that this type of thing wouldn't be sent along with W-2s at the beginning of the year.
I'm grateful for benefits, but our benefits package is nothing extraordinary. And I appreciate the reminder.
Does your job do anything similar?
P.S. – Most employees arrived to work angered over the pamphlet. I was approached by a handful of people who vented about their dislike of the tactic. Looks like an HR backfire!