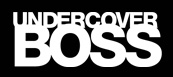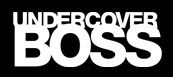 The Real World, America's first true reality show, has asked us for over two decades, "What happens when people stop being polite and start acting real?"
We know the answer. They become enamored with the possibility of fame and act like a-holes. We'll see if the same goes for the CEO next door.
No hot tubs. No alcohol-fueled late nights. Just 'everyday' CEOs doing your job. That's the concept of a new CBS show, Undercover Boss, premiering in the coveted post-Super Bowl time slot.
If you're wondering what's exciting about watching head honchos from White Castle, 7-Eleven, and Hooters step out from their corner offices to do 'real' work, we're with you. Don't expect any elimination challenges or a panel of berating judges. CBS is combatting the bore factor by attempting to pull at our heartstrings by profiling 'average' workers and their struggles. Aspirational? We'll see.
In a perfect world, the person in charge would already have an understanding of what people at all levels are up to, but hey, I guess an edited reality show will have to do.
The time slot following the Super Bowl has spawned several hits over the years, such as the Wonder Years and the A-Team. There have also been a fair share of forgettable duds. The 'Average Joe' mentality of Undercover Boss should keep many Super Bowl viewers glued to the tube.
I'm never sold when the boss rolls up his/her sleeves to get 'dirty,' but I will tune in.
The series moves to Sunday, 9:00-10:00 PM ET/PT, on February 14.
Watch a preview below.