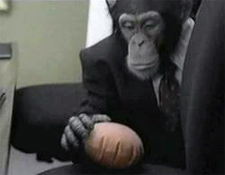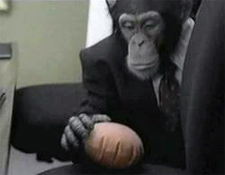 CareerBuilder wants you to self-help yourself.
As you know from last year, we think that Super Bowl ads dis hard-working Americans across the country. In fact, we've even considered boycotting sports.
Rather then piss and moan about all that wasted money, we're just hoping that Career Builder gets it right this year. We were fans of their chimpanzee co-workers, but thought the "wild office jungle" was an example of going back to the well (zoo) one too many times. The ads were misdirected and ineffective.
"This year's campaign is more poignant and urges the sense of empowerment," said Richard Castellini, Vice President of Consumer Marketing at CareerBuilder.com.
Already sounds better than last year.
Between stuffing your pie hole with chicken wings and pizza, you can expect to see Career Builder ads that emphasize; change is possible, it lies within and that it's up to YOU to be proactive.
Amen.
There's a viral marketing element to the ad campaign as well. So if you see a bright orange ladder upon entering your office building, it's just those clever CareerBuilder folks reminding you to continually ascend that ladder of success.
They will also be conducting Unhappy Hours in select cities. Here's a chance to complain about your job and enjoy a few drinks and snacks on the mega-corporate site's tab.
Learn more about CB's aggressive plan for '08, including the launch of the CareerBuilder Institute..