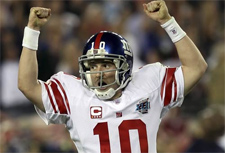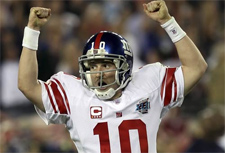 While Eli Manning might not be considered an elite quarterback (yet), he certainly has outplayed top-echelon QBs. Brett Favre and Tom Brady to name a pair. Proof that stringing together fundamentals can sometimes be enough to achieve victory. Here's what Eli has taught us.
Living Up to Hype
Sometimes people actually live up to the hype. Eli Manning entered the NFL in 2004 as the 1st Overall Pick. After several seasons as a rather pedestrian quarterback, Eli has elevated himself with an impressive championship run. Success doesn't always come overnight, Whether there's buzz surrounding you or a colleague, always give people a fair chance to prove themselves. If you don't, you could be short-changing the organization.
It's All In the Family?
While it would be unfair to site nepotism or favoritism to the junior Manning's success, let's be honest, the family you are born into can be a determining factor when it comes to success. At the very least, it affords you more opportunities to be successful. From the president of the United States to your boss, connections are a fact of life. There's no point in getting angry over it; Accept it as harsh reality.
Ignore What Others Say
Eli took a serious beating in the New York media. Celebrities, athletes in particular, are groomed early on to live by the old adage "sticks and stones…"
They called him aloof; uncaring; lacking intestinal fortitude and so on. Yet, when it came time to prove himself when it mattered most, he rose to the occasion because he believed in himself. Don't let anyone's words – a colleague's or supervisor's – put kinks in your armor.
Stay Sober
This picture of a drunk Eli is proof that you should never let anyone take your picture when intoxicated.
How Will You Lead?
It's important to discover what kind of leader you are. Will you lead by example? Discipline? You must know who you are before you can influence others. Attempting to be a type of leader that is out of your scope will be transparent to all and have an adverse effect on your ability to succeed in that role.
Trust Your Teammates
Before the '08 Super Bowl, most casual fans didn't know who David Tyree was. But Eli knew he was someone who would do anything he could to hold onto the ball, despite having arguably the worst vertical jumping ability on the team. Sometimes you need to look deep into your roster to pull out a victory. Do you believe? It will take trust – and sometimes – a leap of faith.
What lessons have you learned from Eli Manning and/or the championship New York Giants?