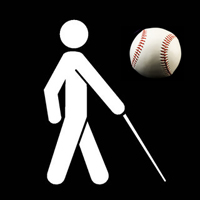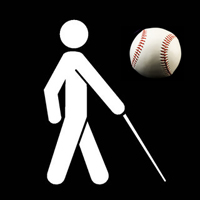 We played a blind softball team and we lost.  No, it's not some horrible politically incorrect joke, it's the truth.  The nine guys who could barely see a thing beat us, fair and square, in a five-inning game.
For those of you who have not had the good fortune of getting your butt kicked by the visually impaired, it's nothing short of an eye-opening experience.
Before I tell you why these guys are awesome, and what career advice we can learn from them, I should tell you that the ball beeps.  Literally.  That's how the visually impaired tap into their sense of hearing to embarrass you in front of your friends and coworkers.
Beep Ball, as it's affectionately known as, has been around for more than four decades.  The ball and the bases (there are only two, and they are cushioned pylons) all emit sound.  To level the playing field, since all participants have varying levels of sight, all the players are blindfolded.
These "beep ball" players are awesome.  And even though we lost the game, I left inspired.  Here are three of the career lessons the visually impaired softball players taught me.

THEY HELP EACH OTHER.  One of the reasons we lost the game was our lack of teamwork.  On the flipside, the visually impaired players vocally coached each other to locate the ball.  Spotters call out a number which represents the part of the field where the fielder should move to.  Amazingly, despite their competitive spirit, the blind team was even willing to help us – "the enemy."  In the workplace, many of us are dragged into a world where we exist in a silo, unwilling to help our coworkers because they "live" in another department.  We all are working towards the same thing: at the softball game, we all want some exercise and a good time; at work we are striving to achieve the company's goals.  Working together makes everyone's lives better.
THEY CARE MORE.  When you play sports you'll often hear the tiresome cliché that the person or team who "wants it more" will win.  When it comes to non-professional group sports, there are plenty of other factors.  But in the case of the Beep Ball All-Stars, these guys were determined to win.  Their passion was evident in every swing and every out.  At work, I'll take dedication and positive energy over skill any day of the week.

THEY ARE FEARLESS.  Next time you're alone in the hallway at work, close your eyes and walk.  Pretty scary stuff, eh?  Now imagine running full speed with limited or zero sight.  Terrifying!  Despite the risk of injury, these softball players take their chances as athletes.  According to several players that I spoke with, the reward outweighs the risk.  Next time you are frightened to address your boss for a raise, confront a coworker, or deal with any stressful situation, try running with your eyes closed.  It's not easy – but you can do it.  And if you can do it successfully, I'm sure you can navigate any situation at work as well…just don't go into the situation blindly!
Visit The National Beep Baseball Association (NBBA) to learn more about this wonderful game.  And if you ever have to take these guys on in battle, I wish you luck – you'll need it!