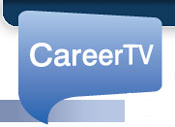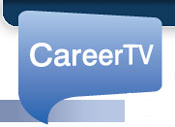 This is a guest blog post by job hunter Sally Lawton.
Company: CareerTV.com
Slogan: Careers brought to life!
Pros: Advice for new grads and young professionals, video resumes, information on corporations and universities, interviews with professionals
Cons: Cheesy production value, categories limited, many features not yet available
Do you ever wish you didn't actually have to read all of the career advice floating around on the Internet? CareerTV gives you everything you could read elsewhere, but in video form. The videos offered include profiles of companies and universities, resumes, career advice, and interviews with professionals.
The company profiles, presented in full evening-news style, cover mainly big corporations such as IBM and Google. While it is fun to visualize a prospective company, the information is not any great insight into the company's culture. More interesting are the vlogs that give career advice. None of the advice is particularly groundbreaking, but all of it is useful and highly salient to the site's target audience of new grads and young professionals. I watched vlogs on buying an interview suit, writing thank-you notes, and some others. While the production value can be a bit cheesy, the advice is genuine. The more interesting videos were interviews with successful professionals. Getting genuine advice from engaging individuals is a major perk for young job seekers.
The biggest marketing tool that CareerTV gives to its users is a place to post a video resume. The featured video resumes make it abundantly clear that this style of resume can either help you, or hinder you. For those who know what they are doing, the video resume might do what CareerTV promises, which is to highlight a candidate's natural charisma. If a user simply doesn't have experience creating videos, then the resume is hit or miss. In some cases, the videos were downright cringe-worthy.
CareerTV is still in its infancy. There are several features still to be released, including social networking. Aside from the tantalizing hints of things to come, CareerTV has a truly maddening organization. While there are broad categories, there are no sub-topics below these. The main topics covered include video resumes, employer videos, university videos, career help, interviewing, and salary. Should a user simply want to browse through to a topic of interest, they must use the search feature or hope that the appropriate video is displayed.
While most of the advice doled out on CareerTV is spot on, some of it is dubious. One video recommended pausing before saying something significant. If the presenter is any indication, a candidate…should pause…every 10…seconds.
If CareerTV were more selective in the videos that it chooses, then it might just be something that young job seekers could turn to for sound advice. They might also consider helping users to create better video resumes, or doing away with them all together. Due to my wariness of video resumes, I don't see myself utilizing CareerTV at all during my job search. However, we will continue to monitor the site's growth and progress. To stay in the loop on Career 2.0, please subscribe to the Jobacle blog.