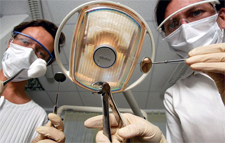 You can't escape the chair!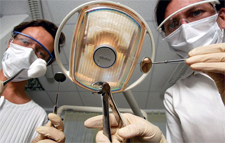 No one wakes up one morning and decides that they hate their job. It might appear that way, but the reality is that there have been warning signs and build up for quite some time. The same goes for oral health problems. A Gallup-Healthways poll from earlier this year indicated that one out of every three Americans did not visit a dentist last year. Whether it's fear, laziness or money holding you back, a visit to the dentist's chair is inevitable, so why delay?
Caring for your career is a lot like caring for your teeth; when problems arise, they can be severe. There's also a good chance that they could have been prevented. Here's your oral care work maintenance tool kit.
Regular Checkups. If you wait for a problem to emerge, it might already be too late to repair it. Self-evaluate your situation at work on a regular basis. Don't be overly reactive, but be aware of problems before they arise. Take measures to diffuse stressful situations. An annual visit to the dentist is guaranteed to pay dividends down the road, helping you escape painful and expensive experiences. Regular career checkups can help avoid a major work meltdown.
Pearly Whites. White/straight teeth boost your confidence. At work you want to dress the part. Give yourself every advantage possible. Feeling good about yourself will have you tackling more problems head-on. And if we're going to be honest, people who care for themselves emit a positive message that tells the world that you will take care of yourself. Not only is that an attractive quality, but it can create more opportunities for you in this superficial world.
Fester. No matter how bad things seem, they could be worse. Don't throw in the towel and give up. As you get older, the number of oral health issues you're faced with increases exponentially. You can never give in and say, 'just yank 'em all!' It is important to take steps to alleviate your suffering – whether it is in your mouth or at your job – as quickly as possible. No one likes a quitter. Help yourself today. You have more power than you realize.
Get Braces Early. A 45-year-old in braces always sketches me out. If possible, correct problems early on. The sooner you tackle stressful (or awkward) situations, the less time you will have to obsess on them. If you are thinking of getting braces, or making a career change, don't weigh the options for too long. Collect the necessary data and make a decision as quickly as possible.
Chew on One Side. We've all been there. There's a toothache on one side of our mouth, and we begin to shift all of our chewing to the other side. All of the extra activity will eventually wear down that side too. Before you know it, there's nowhere left to chew! Often, if there's a problem at work, we'll over-compensate in other areas. Keep your balance at work and make sure that none of your puddles turn into ponds. You can't delay the inevitable, so work towards solutions. Don't settle for Band-aids when it's really surgery that's required.
Skill/Trust. When looking for a healthcare service provider, the most important criteria to me is someone I have confidence in – someone I can trust. The same goes for a career confidant. Many of us do not have a mentor who can guide us through employment turbulence and we end up leaning on the wrong folks for guidance. You shouldn't trust your oral health – or your career – to just anyone.
The beauty of mouth maintenance is that it's relatively inexpensive and easy to perform. Flossing and brushing should be part of your routine and take mere seconds. Find the equivalent actions to maintenance your career. It could be deep breathing. Or setting aside a scheduled time to let off some steam. Perhaps it's taking a brief walk during your lunch hour. Some people find that creating a list of why they should be thankful for their job is enough. The bottom line is there is a way to brush/floss your career, you just have to be willing to find out what it is. Keep smiling!