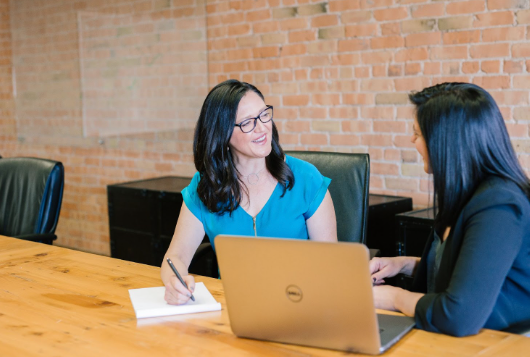 You would've come across those people who always seem to know what to say and how to react and respond to any kind of situation, even when they're put on the spot.
Very often, these people aren't confident because they know all the right answers (it's almost impossible to find someone who does) – they're confident because they know how to remain calm in stressful situations and take control of what's going on. 
You may think that some people are born with this gift while others simply aren't – however, this isn't always the case. History is filled with people who had no self confidence who later went on to become great leaders and thinkers who could address a crowd of people like it was child's play.
And that's what you should be aiming for too. In this blog, we're going to give you some handy advice which will help you remain calm and get over your interview stress and anxiety and take control of any situation you're put in. Let's get started.
Get the basics right
Very often, you may know all the right answers but won't be able to say the right things in the right way when presented with a question, especially when you're under pressure.
The reason for this is because some people experience extreme anxiety and stress when they're put on the spot, which in turn makes them less confident of themselves even though they have the experience and knowledge for the role.
The only way to overcome this is by enhancing your speaking skills, especially your public speaking skills. Without this skill, there's a high chance that you'll shy away from any situation where you need to stand up and speak up at your job.
The best way to overcome this is to constantly put yourself through public speaking sessions. Join a community of speakers and do your best to contribute, even if you feel like you're embarrassing yourself. With time, you'll notice that you're becoming more confident.
Leave no stone unturned
Once you've got your speaking problems sorted, it's time to properly prepare yourself for the interview. This will mostly consist of two components – personal questions and specific questions about the role you're interviewing for.
It's a good idea to make the most of online resources that are readily available to you such as Exponent, a platform for interview prep that's contextual to your role as well.
Join some of the courses there and make sure you have your answers prepared for any potential questions that may come up. Being prepared is what's going to give you the confidence you need in the interview room.
Dress for the role
People always say that your clothes don't define you and that it doesn't make a difference what you wear – however, being well-dressed and properly groomed will give you a boost of confidence because you'll feel more prepared for the task at hand.
Instead of stepping into the interview in a jeans and tee shirt, go the extra mile and show the interviewer that you're capable of giving them the whole package – good looks, a friendly personality, great attitude, and subject knowledge as well.
It's just an interview – not the end of the world
Remember that this interview does not define who you are as a person. So why would you stress yourself over something that is just an activity you're partaking in? Make sure you reach the venue ahead of time to sit there for a few minutes and collect your thoughts. Feeling anxiety is normal, but don't be too hard on yourself.
Just remember that you've done your part and have prepared as much as you possibly can, now you just need to go in there and have a conversation with others about why you'd love to do what you do. Good luck!