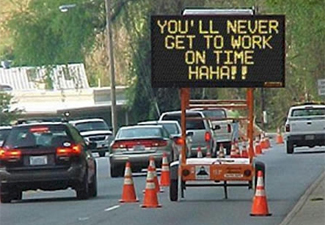 There are many habits that can have negative consequences for your job but, of all of them, being late for work is one of the most common. Being late on more then the odd occasion can result in negative outcomes, probably the most serious being losing your job. Even if your boss is lenient enough to put up with your bad timekeeping, chances are your behavior may hinder your chances for promotion, more responsibility or even a pay rise. Not only does being late for work risk these serious outcomes, it also won't probably be doing you any good either. You'll not feel good about yourself for doing it, the rushing to get to work and avoid being late will create stress, and you won't feel as you've got a handle on your life if your working day regularly starts off badly. The good news is breaking this bad and potentially career damaging habit can easily be achieved with the will and desire to change.
Get a good nights sleep
Running late in the morning is often a consequence of having a bad nights sleep and having trouble getting up in the morning. Making a regular time to go to bed at night will help your body establish a routine, and by making sure you give yourself enough hours sleep, you can wake up refreshed and ready to start the day without any delays. Make sure you bedroom is comfortable and free of distractions that could stop you dropping off to sleep naturally.
Move the alarm clock 
If you still find getting up difficult and rely heavily on the snooze button to gain another ten minutes in bed, but which pushes you closer to running late for work, move your alarm out of reach. Place it where you need to get out of bed to switch it off when it first goes off. Now you're up, you can get ready without loosing time to get ready with the extra snoozing.
Shift the pattern of behavior
Habits occur through regular patterns of behavior and something as simple as changing your route can break the bad habit and make it easier to establish a good one instead.
Try a different mode of transport
Consider how you get to work. If the traffic is always slowing you down, would taking a train or cycling be a better way of getting there on time?
There may be certain events that take place in the morning that always seem to take more time than you envisaged. Sorting out what to wear the night before and preparing food to take with you, rather than in the morning or buying on route, can make a difference to being on time or being late.
Bio: Jen Smith is a Life Coach, Mentor & Writer. She has tried many career paths herself and now helps people achieve their goals and dreams.