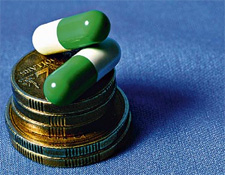 New Provision Incentivizes Wellness


Offering employees incentives for improving their health isn't a new concept. Many larger companies providing employee health insurance give discounts or cash incentives for smoking cessation, nutrition awareness and other wellness initiatives.
Smaller companies have historically faced a big financial hurdle when trying to offer similar benefits to their employees. But that's about to change. In an article at CNN Money, "Bribe Your Workers to be Healthy," Sonya Stinson outlines a new provision in the health reform law that will aid small companies. And they will compare insurance rates so that they get the best deal on the coverage.
"Starting next year, the law authorizes grants totaling $200 million over five years for small companies that start wellness programs focused on efforts such as nutrition, smoking cessation, physical fitness and stress management. Companies with fewer than 100 employees qualify for the grants, which will be administered by the Department of Health and Human Services, but only new wellness initiatives — those launched after March 23, 2010, the date the heath reform bill was enacted — are eligible."
According to the article, the law also offers a prevention provision that will take effect in 2014. It will allow small employers to offer discounts of up to 30% on health insurance to workers who participate in structured wellness programs.
As a behavioral health clinician, I applaud these efforts by employers. It demonstrates the company cares about the well-being of its people and doesn't just view them as worker bees. It's also an excellent example of "put your money where your mouth is." Corporations often impose health initiatives without incentivizing. This can send a message that it's more about the company's bottom line than sincere concern for its workers.
I know of several organizations who even offer a customized approach. They bring in outside consultants to provide brown-bag-lunch workshops on stress-management and other issues that affect employee emotional and psychological health.
If your company doesn't offer these types of incentives, ask your HR department to check into them. Or you can always head back to school with this recommended resource for school grants.
This is a post by Nancy LaFever. You can read more from her at the Centre for Emotional Wellbeing blog.