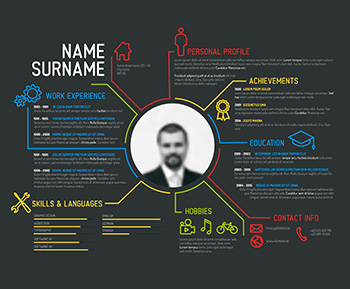 In a job market that seems to get more competitive with each passing day, you know how important it is to have a standout resume. Of course, as you may have already discovered achieving this is a lot easier said than done.  Whether you are meticulously crafting your very first resume or you feel like your tried-and-true one suddenly needs a major facelift, free resume templates can be extremely helpful. Not sure where to get free templates? Get started here: 279 free samples in MS Word.
No Experience Needed 
Well, no experience is needed to write a resume with a template anyway. This may not hold true for the position you are applying for. Many people simply do not know where to begin. They sit there, looking at a blank document on their computer, and just feel a little lost. Does this sound familiar? You may be wondering what headers you should use? Where do the indents and bullets go? It can all be very intimidating. When you use a free template for resumes there is no guess work. You don't need to know anything about proper format because you just have to follow the template and plug in the correct information.
Grab the Reader's Attention 
It is suggested that a hiring manger glances at a resume for an average of six seconds before moving on with another. How does six seconds tell them anything about you? Well, it doesn't. You need a resume that grabs their attention, so they actually take the time to stop and learn a little more about you.
If you are a recent college graduate applying to an entry level position to a major corporation it is highly likely that a vast majority of other applicants are using a basic resume layout they learned in school. If you are the employer scanning through a pile of these resumes, they probably all start to look identical after a while. Your eyes glaze over, and suddenly you are either daydreaming about a vacation or you are thinking about other work you should be doing. Then, you flip to the next resume, and it is different. It captures your attention and you are finally intrigued enough to read beyond the first line. When your resume has clear headings and a format that guides the eyes down the page, you are able to tell a lot more about you in that initial six seconds.
Inspiration 
Just browsing through quality templates may give you some ideas of key points and words you want to use in your own resume. Close your eyes, and when you open them, evaluate which words jump off the computer screen at you. These words may have the same effect on a potential employer.
Focus on Content 
When you stop worrying about formatting, you allow your mind to enjoy a more creative process. You can focus on the content without all the confusing details getting in the way.
Save Time 
You may want to send different resumes to different employers, depending on the position available and your relevant qualifications. This is especially true if you have an extensive job history. You might only want to list positions most relevant to the job you are applying for. Therefore, being able to quickly create a new resume for a specific employer gives you a better chance of landing an interview than sending a generic one that doesn't necessarily showcase your related skills. Using free templates will be a lot faster and easier than creating one from scratch, so you can be more productive with your valuable time.