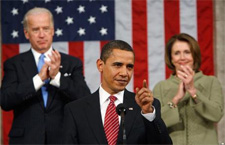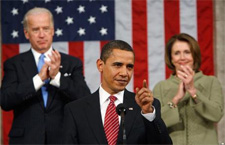 The world is more focused on the iPad, the latest gadget from Apple, then they are intent on watching President Barack Obama's State of the Union address tonight.
Perhaps that's part of the reason our economy is where it is. Our heads are up our asses.
We need new jobs. Better benefits. Is there an app for that?
The president is expected to talk about his push for tax credits for new hiring, an incentive that will hopefully grab the attention of American employers. Also on the agenda is a requirement that companies allow workers save automatically for retirement.
Watch the speech live at Whitehouse.gov and get your drink on!
P.S. – iPad is such a crummy name. Sounds like a digital tampon.