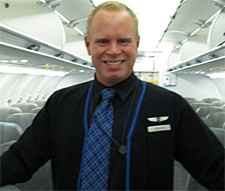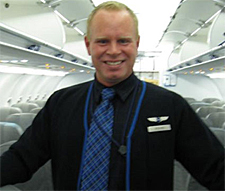 Steven Slater needs to learn how to quit a job the right way. The (former) JetBlue flight attendant cursed out a plane full of passengers and exited via the inflatable emergency evacuation slide
Ironically, Slater was part of JetBlue's "in-flight values committee." Ha!
Allegedly a passenger ignored Slater's warnings and reached for his luggage from the overhead compartment. The suitcase ended up striking Slater in the head and chaos ensued.
"To the passenger who called me a m—f–er, f— you," he ranted over the intercom.
Who wants to bet we'll see a "temporary insanity" claim? Perhaps the luggage struck his head and caused the outburst. Whatever the case, it's safe to say Mr. Slater is done with the friendly skies – whether he likes it or not.