He got his start laying pipe for the Atlas Water and Sewer company. Eventually, he climbed the ranks, becoming responsible for a staff of 800 and annual revenue exceeding $120 million. His name is Victor Kipling. This is his weekly column.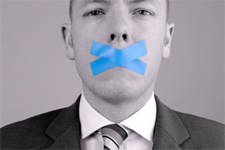 Alarms rang and sirens whooped while red lights flashed with laser-like intensity. The entire area was suffused with urgency, and a sense of emergency sliced, like a knife, through the office. Execs and clerks gasped, almost in unison, when they heard the news…
Yes indeed, it was finally confirmed that Joe (you know, the unassuming guy in the third cubicle from the window) was actually overheard using a…a…
stereotype about a certain group when talking to a friend on the phone! Who would have thought, they said, that a seemingly normal person like Joe was such a, well, fascist. And then the attacks really began – he's probably also a smoker, drives a gas guzzler, votes Republican, likes his steak rare and even watches FOX cable news!, they rumored.
Ah, the relief they felt when he was reported to the PC police by a dutiful and conscientious eavesdropping neighbor. With joy they watched as Joe was then dragged off to sensitivity re-training! And yes, he'd be a very old man before they ever considered giving him a promotion. How dare he, they demanded, dirty their pristine work environment with such behavior. If they didn't get to him now, who knows what he might say next, they worried. Who the hell does he think he is, an individual or something?
An exaggeration, you say? Things aren't really that bad? Wanna try it where you work? I think not, and you really know better anyway. Because the reality is that the price we pay for independent thinking and/or what's deemed to be politically incorrect behavior or speech is way high. And that holds true whether it's expressing an opinion about company policy, using a stereotype to describe someone or even just the daily office chit-chat.
Stereotypes have always been with us, and they're founded in just enough truth to make them somewhat valid. And in the best of all worlds, they, like crime, disease, war and a host of other afflictions, wouldn't exist. And the use of stereotypes as a kind of verbal shorthand is something that we all engage, and even some would say, indulge in. Don't we all do the same thing, in one way or another? But not you, you would never, ever.
Okay, not you. Just everyone else, including even the most 'progressive' among us. Come on, you know it's true. All doctors and lawyers are Jewish, right? All cops are hard-drinking Irish, all accountants are nerds, all teachers are just that because they can't do anything else, all Italians are mobbed-up, etcetera ad nauseum. Except, that is, for topless dancers, who are all just intelligent young women working their way through law school. Or so the PC doctrinaires would have us believe. But the list goes on and on…and there's a convenient stereotype for everyone, by everyone else. (We are putting together a master list of career stereotypes – so subscribe now!)
So, the next time you hear some self-righteous elitist blabbing and bleating about the need for even greater sensitivity, just remember that they will be coming for you, too, someday soon. Because, and like poor Joe, they'll ask 'who the hell does he think he is, an individual or something?'