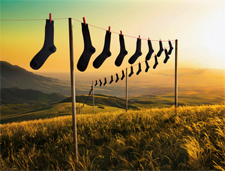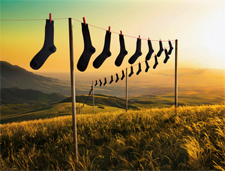 Faded black socks; the story of my life. Since I am a corporate monkey who is required to wear a suit on a daily basis, I am forced into wearing black dress socks. The problem is, after several washings, no matter what method or detergent is used, the socks fade. And gray socks with a black suit can just kill the entire look.
I often think too much is made about "dress for success" – but who am I to argue with the man who has revolutionized the fashion industry – and cured one of my greatest pet peeves. Meet the Blacksocks.com SOCKSCRIPTION: a fresh shipment of black socks shipped directly to your door several times a year.
Samy Liechti, Blacksocks' founder, shares career fashion tips to keep you looking smart from head to toe.
1. Choose a conservative suit in black, navy or gray in solid or a small pinstripe. Remember—the quality of the fabric speaks as loud as the color. If the fabric could also be used on your grandmother's sofa, chances are it's not appropriate for your suit.
2. Always avoid white socks. It doesn't matter if it's after Labor Day, Arbor Day or Flag Day—white socks are never appropriate with business attire. Unless your business happens to play out on the tennis court, stick with dark socks made of quality fabric.
(Agreed. For some time I went the wacky argyle route and have regretted it ever since.)
3. Shoes should be conservative and well-polished. People often look at a man's shoes before his face, so choose pairs wisely. A nice pair of loafers is best.
Dull, scuffed or muddy shoes are an office no-no. Keep it simple—certain styles may not be worth the tassel.
(I find I have to replace my shoes ever few months…even the expensive ones. How do I keep the toe portion from scuffing?)
4. Don't pair a backpack with a suit—ever. Even if you're the kind of guy who enjoys shooting hoops between board meetings, choose a more work-appropriate briefcase or subtler gym bag for carrying shorts and sneakers. After all, you're supposed to be a leader in the office, not on the trails.
(Guilty as charged! But I bring a big bagged lunch…)
5. The brighter the shirt, the simpler the tie. Match brightly colored shirts with muted, solid ties—anything more can be overpowering. Your ensemble should never be busier than you.
6. Shoes should match your belt in color, texture and style. There's no room for mix-and-match when it comes to these essential accessories. If your shoes are black and shiny, your belt should be, too.
(As I type this I am embarrassed about my black belt and brown shoes. Though the kicks do have some black trim!)
7. Don't settle for ill-fitting ANYTHING. Nothing looks good if it doesn't fit you right, no matter how expensive or stylish. Invest your dollars in a good tailor now, and you won't have to spend those dollars on better clothes later.
(AGREED!)
8. When it comes to your ties, don't walk on the wild side. Dazzle people with your mind, not your neckwear. Choose ties made of silk or silk-like material, with simple patterns or solid colors. Avoid the cartoon characters or anything over the top, and you can enhance your professional look and your credibility.
(Time to retire my Ed Hardy ties?)
9. Limit jewelry. A well-done business look relies on simplicity—and large or unnecessary jewelry borders on tacky. Keep jewelry limited to a simple watch, wedding band and maybe a college ring. Less is always more.
10. Pay attention to detail. Keeping the little things in mind can pay off big when it comes to dressing for any job. Be mindful of any wrinkles, creases or stains and make sure your shirt is tucked in…all the way around.
Tips compliments of Blacksocks.com.