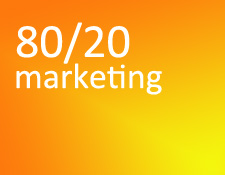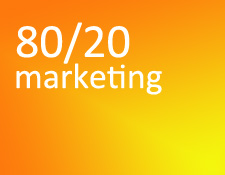 Marketing has always been about rules/principles. Because at the end of the day, how smart your marketing is depends on how well your understand some of its basic rules. Now, when we talk about rules, one rule that stands out today in the marketing world is the 80/20 rule or the Pareto's principle.
Before you get confused, the 80/20 rule is nothing new and businesses have been applying it in their marketing knowingly or unknowingly. So what does the rule say? It's simple: 80 percent of your results  come from 20 percent of your efforts. In marketing terms this means that 80 percent of your sales result from 20 percent of your marketing/advertising efforts. Or 80 percent of your business is generated from 20 percent of your customers.
Applying the 80/20 rule can take our online or offline business places. It can not only save you money but also help you increase your profits in the long run by giving your business more leverage and your marketing a more focused direction.
Begin by Identifying Your Ideal Customer
While there are a number of ways this rule can be applied to a particular business, you need to start at the basic or core level. You need to apply it in such a way that it helps you strengthen the overall foundation of your business and marketing. So how do you exactly do that? By identifying, knowing and understanding who your ideal customer is.
If you look into your own customer base you'll see that not all your customers have the same buying habits. A minority of them are more loyal to you and happen to buy most of your products. These people are your ideal customers and belong to the special 20 percent group.
When you study your ideal customer you'll come to understand what motivates them to buy from you and how you can go out there and find more such customers. This could be done by tweaking your advertising strategy to target your customers more appropriately or even better, by asking your ideal customer if they can refer other interested people like them to your business.
Treat Your 20 percent Like Gold
Your marketing efforts almost always cost you time and/or money. So it's obvious that you should focus them in a direction where you're most likely to get results from. Once you're done identifying your ideal customer, you will know who your 20 percent customers are. And when you know that, you should do everything you can to give them high priority, more value and better attention.
It will take some time before you're able to truly get in touch with your 20 percent. But slowly and steadily it will happen, and as it happens, you'll be able to refine your approach. This refinement then gives way to more profits, and a better return on your investment.
Nurture Your Relationship With the 80 Percent
Now, when you're focusing on the 20 percent, it doesn't mean that you completely ignore the 80 percent of your customers during marketing. Today marketing is incomplete without effective relationship building, which is why you should nurture your relationship with the remaining 80 percent of the customers too.
Even though you won't be getting a huge response, your main aim here is to maximize the profit potential from this group of customers. As a business, you cannot and should not ignore any profit generating opportunity or any profit leaks for that matter.
Conclusion
Business is all about balance. Whether you're looking for glass desks for your home office to enhance it or you're trying to apply offline marketing with online strategies. Therefore, when you're leveraging the 80/20 rule for marketing, you shouldn't ignore the importance of achieving real balance.
As you move forward, you will realize that the more effectively you take advantage of the 80/20 rule, the more balance you achieve in the way you approach your marketing goals. You might not see favorable results right in the start but you will in due time, as long as you don't forget the basics of marketing, and try to understand your customers better. Remember, each time your customers buy something from you, they leave a trail of data that you can study to serve them better in the future.