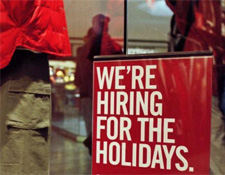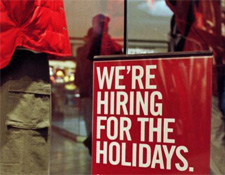 The holiday season is in full swing.
With holiday parties to attend and gifts to buy, does that mean you should take a break from your job search? Not necessarily. In actuality, the end of the year is a great time to ramp up your efforts.
Hoping to land a new job before the New Year? Employ some of these holiday job search tips:
Send Out Personal Season's Greetings Messages To Reconnect
If you're like me, you haven't stayed well-connected with your extended network — yet these folks are the ones most likely to land you that next job. So, get back in touch and reconnect. How? With Seasons Greetings notes. Send each an email or seasonal card. Wish them happy holidays. Update them on your life and your job search. Ask to catch up for coffee. And get results so fast they surprise you.
— Alan Carniol, Interview Success Formula
Focus Your Job Search During The Holidays By Setting Goals
It's easy to lose control of your search during the holidays. Stay on track by creating job search goals while you manage and track your applications. This can even involve upping your networking due to all of the holiday events.
— Mark Lesiw, Careerleaf
Take a Page Out of Santa's Playbook and Create a Job Searching Checklist
There are a lot of things to focus on during the holidays, so it can be hard to really concentrate on your job search. This is why it's important to make a checklist, and check it twice, before starting on your holiday job search. Job searching tasks like updating your resume, recording a video resume, and cleaning up your social media profiles should all get checks before you move on to apply for your dream job.
— Josh Tolan, Spark Hire
Take the Elevator Pitch Approach
Everyone is always looking for help during the holidays. Walk into places you where enjoy shopping and eating, or using their products and services. Ask directly if there are open opportunities and state why you can help the company in an elevator pitch.
— Joanna Riley Weidenmiller, 1-Page Proposal
Keep on Applying
Yes, there are fewer job openings posted over the holidays, but there are also far fewer job seekers applying to jobs. Look daily for new openings and apply in a timely fashion. If your holidays are busy, sign up for job alert emails so new jobs matching your search criteria are sent to your inbox daily. The emails take a lot of the effort out of searching, and are a great reminder to keep on applying.
— Rachel Dotson, ZipRecruiter.com
Visit Your Local Public Library
Beyond the career books, local public libraries are equipped to provide residents with access to databases, training classes, and one-on-one assistance by trained information professionals.
— Natasha Peter, NJWorks
Manage Your Expectations
Unless companies have a dire need to fill a position, the recruitment process slows down during the holidays. This doesn't mean you should slow down — just don't expect prompt responses.
— Stacey Hawley, Credo
What other holiday job search tips would you add?