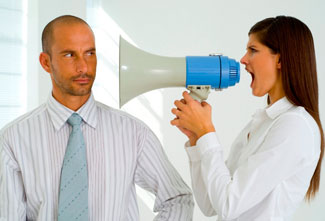 The workplace is crawling with a menagerie of characters. The quiet one in the corner who only comes alive at the office Christmas party. The "Good Morning!" guy, the dude who is way too loud and boisterous for 8 o'clock in the morning. And the one with a chip on their shoulder and a persecution complex, always itching for an argument.
That erratic behavior may seem irrational, but it can sometimes be an actual strategy, developed over years to keep people at bay. Angry outbursts and aggressive behavior can provide a substantial defense shield for the insecure. That is generally what you are up against when faced with a contentious colleague. Here are some strategies for dealing with that type of headache.
Embrace the Inane
Small talk may be the last thing you want to engage in with anyone, be it your morning coffee connection or your co-worker. But embracing and getting better at the art of talking about nothing can keep you in a decent relationship with even the most backstabby colleague. And that includes the weather. Discussing the weather is the ultimate social surrender, but sometimes a necessary one.
Strive to Find Common Ground
Find ways to be on the same page with your nemesis. You might agree with Sally that the new fish tank in the lobby is a gaudy relic that needs to be replaced. Or you have the same fondness for "Breaking Bad." Conversations about Bryan Cranston's acting prowess can take the tension out of any relationship. Search for any topic that can serve as a bridge. It won't always save you from being chewed out by your cranky colleague for that typo in the TPS report, but it might help. Check out another Jobacle post for advice on turning coworkers into friends.
Hash it Out
If the tensions is at a boiling point, maybe the best solution is to have a screaming match in the middle of the office hallway. Getting to the root of your problems may help professionalize the relationship again. Then again if you don't have enough adult in you to pull that off…
Avoid, Avoid, Avoid
If you work in a small office, this strategy may be a non-starter. But sometimes the best way to keep yourself out of trouble is to get out of the way. Is your antagonist a lunch person from 1-2 pm? Make sure you avoid the lunchroom during that time. Give yourself as much of a break as possible from people that make you nuts. You may be forced to compare spreadsheets or share a printer, but that doesn't mean you need see them on your off-time.
Acknowledge Your Differences
A lot of workplace strife stems from opposite styles. Maybe you avoid confrontation, while Sally seems to thrive on it. Pull Sally aside and try to explain that you don't run on the anger juice. Collaboration is more your style. When Sally starts digressing into why you have no backbone or how you will never get anywhere with that attitude, breathe deep and go to your happy place. As Rust Cohle would say, "Time is a flat circle." You will keep encountering difficult personalities, no matter what your job is. Try to remember, everyone is fighting a battle that you cannot see. Choose kindness and you will be rewarded with some much needed peace.
This post is by Blake Edwards.