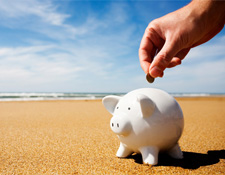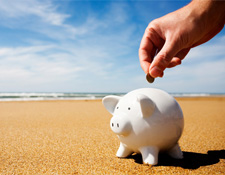 The days are longer, the pools are warming up, and you're planning a nice little getaway, which can mean only one thing: Summer's here! With all of the summer excitement there's a lot of temptation to hit the stores and do some shopping. If you're a little low on cash however, you may be stuck with fewer shopping trips than you'd like.
You're probably wishing you had some ideas on how to make a little extra cash for the summer. So to get you started here are a few things that you can consider doing to generate some spending cash:
Have a Garage Sale– There has to be some old stuff lying around your place that you wouldn't mind getting rid of. You can put up some signs in the neighborhood, and even a small add in the newspaper. You would be surprised at how many people treat garage sale shopping like a sport. They may fall in love with something you've got for sale.
Freelance Work– Whether you're a writer, photographer, or music teacher, the internet is a great place to find all sorts of people looking for freelance work. With a little bit of searching you can find several different places willing to pay you for your time and talent.
Seasonal Job– You can look for a part-time seasonal job. Places like the public pool or summer camps are always looking for more employees once things start heating up. These types of jobs usually aren't as boring or mundane as your typical jobs, which means you can have some fun while you make a little extra money.
Start a Website– If you're tech savvy you can build a simple website. Grab some good ads to throw on your site, set up a Paypal account and you're in business. It may take some time to get good at internet marketing, but once you develop the skills you'll be able to drive customers to your site.
Become a Personal Trainer– Getting certification for personal training can be done in just a few weeks if you work hard at it. Once you're certified you can start training people and making some really good money. Plus you get to help people reach their goals and lead healthier lives. Personal training can be a very rewarding line of work!
Making some extra cash this summer is all about taking a simple idea and really sticking with it. Ideas that require little or no start up money are usually the best because you don't risk losing anything. Now it's up to you to find the right idea and run with it.