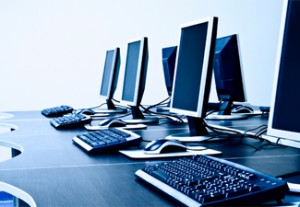 The Internet is essential to the operation of most businesses today, and allowing your employees to access the World Wide Web is a necessity. However, this opens up the possibility that workers will use the Internet for personal reasons during working hours, resulting in lost productivity. By following these 5 tips for managing personal Internet use in the workplace, you can avoid lost productivity without feeling the need to stand over your employees' shoulders.
Develop a Policy
Develop a clear policy for personal Internet use, and make sure everyone is aware of it. Some points to include:
Purpose of the policy
Whether or not personal Internet use is permitted during break and lunch periods
Prohibited websites and activities
Punishment for violating rules
It is helpful to include examples of behaviors that are/are not considered legitimate business purposes for accessing the Internet. Of course, you should make sure that your employees understand that these are just examples and should not be considered an all-inclusive guide for determining whether a specific Internet use is appropriate.
Block Problem Websites
Certain websites may be more likely to tempt your employees than others. Social networking sites such as Facebook and Google+ often lure people away from job-related responsibilities, as do gaming sites and chat rooms. Prevent your employees from spending time on these websites by blocking them. In addition, also consider blocking sites dealing with gambling, pornography, or other illegal activities.
Monitor Individual Productivity
One of the best ways to know if workers are spending too much time surfing the Internet is to monitor individual productivity. If productivity seems to decline over time, this may indicate that he or she is wasting too much time doing things such as surfing online. In addition to monitoring productivity, make sure employees have an adequate workload to keep them busy. In doing so, be careful not to load up your employees with so much work that they feel overwhelmed and morale suffers as a result.
Consider an Open Office Arrangement
Rather than having people work in individual offices or cubicles, consider the open office concept. In this environment, employees are less likely to visit inappropriate websites because they know that their co-workers and managers can see what they are doing. Another benefit to having an open office environment is visibility; supervisors can see if workers are texting or using their smartphones to surf the Internet, which is something not easily noticed when individuals are afforded more privacy.
Install Tracking Software
If the above steps do not minimize personal Internet usage, you may have to install tracking software on all company computers. This software tracks every website an individual visits and details how much time was spent on a page. While this helps identify people who are abusing their computer privileges, it does have the potential to impact morale negatively because no one likes to feel as though Big Brother is watching. Even so, if you manage a large number of people, this may be your best option, since monitoring everyone without using one of these software programs is almost impossible.
These 5 tips for managing personal Internet use in the workplace helps you draw a healthy balance between allowing your workers the flexibility to use online resources and preventing them from wasting time while doing so. By managing Internet usage at your company, time and resources will be used more effectively, thereby increasing your overall profit margin as well.