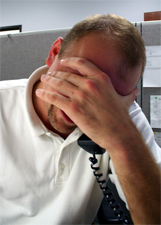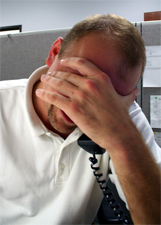 Tell me if this sounds familiar…
It's 7pm on a Sunday night. You've just finished dinner and you are starting to settle down for the evening. Normally this would be a relaxing time. Maybe you take this time to reflect on the past week, or perhaps settle into your latest Netflix arrival. But this night is somehow different. You suddenly become filled with a certain something. You can't exactly but your finger on what it is. Unfortunately, there's a good chance that it's anxiety.
Rather than relax you actually begin to get worked up, even annoyed. It comes in waves and is an overall malaise. This is a serious indicator that you could be experiencing the early warning signs that it's time to leave your job.
At some point most of us will reach this crossroad. Maybe you're there now but just don't recognize it. With that in mind here are five surefire signs that it may be time to change your job.
Change in Appearance
This can include weight gain or loss, bags under the eyes or simply an overall devil-may-care attitude towards your appearance. If you've thrown in the towel with regards to your look or you find yourself either unable to eat or rather using food to pacify your angst it may be time to punch up that resume.
Lack of Sleep
Insomnia brought on by the dread you feel waiting for the alarm clock to sound. Even if you do manage to catch a few winks they are often restless and disturbed by nightmares. How do you get these negative dreams to stop? Read this.
Complaining About Work

Some people just can't leave it at the office. They are defined by their jobs. If you suddenly find yourself
consumed by work and unable to shake the negative attitude you have towards it, you may be heading down a dead-end path. In many cases, this behavior starts at work with a small clique. Each member works the other ones up on how horrible everything job-related is.
Job Search Addiction
You start by checking once a day, then twice a day – before you know it – you're refreshing Monster like a madman. Before you know it, you're looking to change fields and take a $15k pay cut. Read more from "Confessions of a Job Search Addict."
Internet Search Balance Shift
Sure, most of us surf the web at some point during our workday if only to check our bank accounts or the weather. But if you find that you are spending more and more time Web window shopping, or treating fantasy football like it was reality football you might as well start clearing out your desk. Give yourself this one-question quiz: Are you begging to be caught?
It might sound dramatic, but unhappiness at work can quickly lead to anger – which is anxiety's best friend. And if you're not careful, anxiety will introduce you to his big brother: depression.
There are so many more indicators and solutions, many of which we plan on discussing in the coming weeks. Please subscribe to the blog and the Working Podcast.
Every Jobacle entry in incomplete until you leave a comment. Please leave a note on your experiences and warning signs that have not been included above.
If any of the above scenarios sound familiar, you need to learn more about beating the Sunday Night Blues.