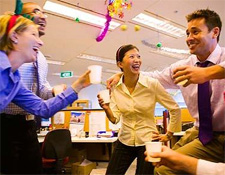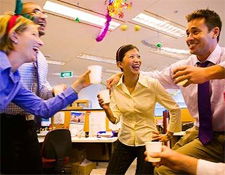 Every office has a party planner; the worker who takes it upon his or herself to collect $5 from everyone to buy a birthday cake. These are usually the same people who make a production and clean out the fridge when it's bursting at the seams. The same folks who leave messages on the water cooler about the top of your bottle touching the lip of the spout.
No has appointed them Office Planner, but they have assumed the unofficial role.
Maybe I should be grateful that these people take on the tasks that I have no interest and no time to do. But I don't. In fact, I find them quite annoying.
Perhaps they are just nice people looking to do nice things. But there are other potential motives:
– They don't have enough "real" work to do so they attach themselves to time-wasting projects.
– They want control. As the lonely peon at the bottom of the ladder, they are desperate to drive any project.
– They want to show that they are 'go-getters.' Will upper-management take notice and consider them for the next promotion? Doubtful.
– They want attention and are desperate to be recognized by others.
– They think it's expected from them because of their rank, seniority, physical location, etc.
Again, maybe these folks are just being nice and I'm in a grumpy mood. But I can't help put think that kindness is NOT their co-pilot. As always, your thoughts are welcomed below.