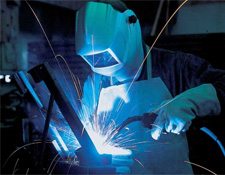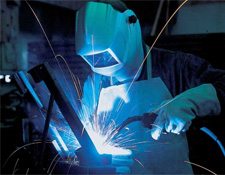 Welding is a fantastic career for the ambitious, patient and steady handed amongst us. While it can be noisy, uncomfortable and even sometimes dangerous, welding as a career is also challenging, fun and rewarding. With all sorts of skills involved, from welding itself to profile cutting and plasma cutting, there's a host of interesting and valuable skills to be learnt as part of a career in welding.    
Demand
Recent years have seen a vast increase in the demand for skilled welders. Because of this it is not only easy and very cost-effective to learn the required skills but it is also incredibly easy to find suitable and well paid work – an invaluable attribute in today's economy.
Flexibility
The demand and general nature of a career in welding means that it is a very flexible vocation to uptake. This means the profession is highly suited to those with a love of travel, and people with few ties who are able to move where the money and the work is.
With this in mind, for those who are interested in welding but also have a stable home life that they do not wish to upheave, it is vital that they first look at what welding opportunities are available in the local area. Budding welders should look at manufacturing factories, or if they live near the coast, boat manufacturing may be an option. However if there are no suitable and permanent jobs within a reasonable distance, it is probably best to consider an alternative career path.
Career Progression
Welding is not only a flexible career in terms of location, but it is also flexible in terms of the skills a welder can master. For example profile cutting is a natural progression for many welders, and learning additional skills such as profile cutting can increase the value of said welder and the amount that they are able to earn.
Excitement
One of the most important factors in job satisfaction is that we enjoy the work, and a job that is exciting is certainly parallel to a job that is enjoyable. Welding can be a very exciting job; the noise, lights and sense of danger make it perfect for those who have a little bit of the 'thrill-seeker' in them.  Welding can also be a very difficult job – meaning that it is perfect for those who like a challenge and those with a natural drive for perfection.
Money
As much as many of us may not want to admit it, the main drive with work is for money, and while job satisfaction is of great importance, if the pay isn't enough then we may need to find something else. However the lack of skilled welders and those with other skills such as profile cutting means that the pay within the industry is generally very good.
In addition, certain welding jobs can offer excellent money making opportunities. Offshore oil rigs are an example of one such location where the earnings are significant. Getting work in such locations can prove more difficult than usual however, with most offshore rigs requiring welders to possess a welding certification, and some requiring commercial licenses.