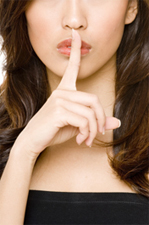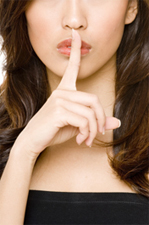 I'm not too big on compiling lists of things that will 'change lives.' However, today a conversation occurred in my office between two of my co-workers that made me (as it always does) start to grind my teeth. It was mindless, boring, cliché banter that was used as nothing more than a device to fill a void of silence between two people that really had nothing to say to one another.
Silence is golden…especially at the office.
We've all taken part in it at one time or another. Maybe we let ourselves get dragged in or maybe we sparked up the exchange ourselves. I'm not a sociologist so I have no idea why people in quiet moments with other people feel the need to always say something, no matter how trite. I think it may have something to do with the fact that we've become a society – that between cell phones and iPods – no longer feel comfortable with our own thoughts.
Those moments seem so rare these days that when the opportunity of "silence" does present itself, we forfeit the moment as soon as somebody else enters our area.
I think it is unfortunate and unnecessary.
Certain conversations are so over used that it is obvious to both parties that these 'conversations' are merely a crutch to avoid what is perceived as greater awkwardness. With that in mind, I present: 5 Office Small Talk Sins That Should Never Fill the Silence at Work Again. EVER!
1. The Weather. Enough already. Is this exchange really necessary while I'm standing at a stall, looking at the ceiling, and just trying not to breathe? Yes, we know… it sure is nice out there, warm out there, nasty out there, coming down out there, freezing out there, or whatever the hell else it could possibly be doing out there. We all experience the same weather patterns in our geographical locations in relatively similar ways. Let me shake off without talking about it.
2. The Holidays. Lets get this one over and done with now; retailers are NOT shoving the holidays down our throats earlier and earlier each year. I'm 30 now and my first retail job 15 years ago followed the same pattern retail follows today! I am not shocked and dismayed to enter Target to buy my children Halloween costumes in October only to notice that THEY'RE ALREADY PUTTING THE TREES OUT!
And to be frank about it, I don't give a shit either. We live in a consumer- driven society. Some people shop early and some people shop late. Retailers are competing for your hard-earned cash, and if Walmart is putting out trees, then by gum so is Target. Somewhere along the line we all agreed that Halloween kicked of "the holidays" (as if there were only 3) and so don't be surprised to see the merchandise at the same time. We got what we asked for long ago.
Back to school stuff arrives in late July and Easter eggs are out in February- just accept it. When I go to pick up my 4th of July supplies and I SEE THE TREES OUT we can discuss it. Until then leave the air silent.
3. Fridays. I don't ever want to hear again how close or far we are to or from Friday. This is terribly sad, folks. Living your life for one day of the week? Maybe it's time to rethink your career decisions.
Only, I don't believe that half of the people in the world that have said 'at least it's Friday' or 'hey, only one more day till Friday' truly feel that way.
My point, when someone passes you by or enters a bathroom and asks 'what's up' or 'how's it going,' they aren't really asking. It was an acknowledgement of your presence. You don't have to quickly calculate how far you're away from beer o'clock and state that it'll all be better once you're out there poundin' because you think it's clever.
4. What's Up? On that note, I'm giving you permission to not feel the need to ask 'what's up' or 'how's it going' just because we're passing by or standing at the sink together. I promise not to run back to my desk and sulk and I'm sure you won't either. Now, I don't want to come off like too much of a crank, and I have no problem with a nod or a smile. Besides, 'hello' is usually way more pleasant (we are all in world together after all. What's wrong with a hello?). But it really wouldn't be bad to put an end to asking questions you don't really want an answer to. Next time someone mindlessly asks 'how's it going,' take 10 minutes of their time to tell 'em. That'll shut 'em up the next time you're at the water cooler together.
5. Clichés. Finally, pop culture clichés that start off as jokes, but catch on and spread like a rash, need to be banned. The Budweiser WASSUP guys come to mind. More recently I think of The Office. I have never seen the show, but apparently they have incorporated this into their take on office life with the phrase, "that's what she said." Obviously something that's been around forever and something that works in that type of comedy because it points to just how mindless the day-to-day office life can become. Unfortunately, skits like this catch on with a select few in every business (usually young males) and they beat it into the ground until you feel like beating them into the ground. Let's agree to end this now.
So there you have it; a list of things you should never say to me or anyone else you remotely like. 'm sure there are some I'm leaving off. If any occur to me I'll add it to the list. I encourage you to do the same. It is time we put these over used crutches to bed. Agreed?