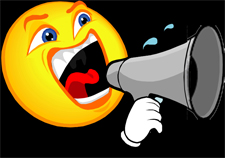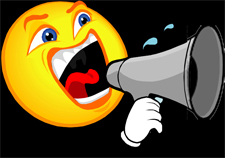 Because of their bloated, distended, and very warped sense of self, as well as the huge amount of decibels they waste, the loudmouths of the world rank way up there in the pantheon of office villains. At work, it sounds like their voices careen off the walls, echo in the ether, and don't even get absorbed by thick carpeting.
They won't be stopped, and they can't be easily deterred. Because to them, "the world needs to know!" How smart they are, how tough, how successful, blah, blah, blah and more blah. They are egos gone berserk, feeding their starved psyches at everyone else's expense. So, we submit that all loudmouths leave the world of regular office work, and instead find themselves in one of the following five occupations. Tell 'em anything, just be sure to also say that the world is waiting for them…Hopefully, they can't resist and will take their toxic show on the road. As you can see, there's a host of far more suitable venues for them to infect…

>Talk Show Host
Guaranteed, the loud can't resist this one. Their grandiosity just won't let them. They see themselves as Chris Matthews or Rachel Ray. They just haven't gotten the breaks that the others have, they say not only to themselves but to anyone who'll listen. Let them just imagine what it would be like–the feeling of celebrity, of power, of barking and screeching about everything and anything, and all from behind the secure walls of some big city broadcast studio. Their posturing protected by the First Amendment, they can be as disgusting as they please, and 'shock jock' with the best of them! Hey, there's plenty of examples out there for them to copy, all they need to do is channel surf (yes, some people still do!).
>Drill Sergeant
Where else would loudmouths get paid, praised and even rewarded for screaming at the top of their lungs, than in the Army? Not only that, they even get trained in how to do it! Bass, baritone, even tenor or contralto, the timbre of their voices don't really matter, since their job is to start you off feeling like a soprano, anyway! They know that the louder they bellow, the more you'll be impressed with their authority. So, and every day from reveille to taps, they'll curse, yell and scream orders in your face, while raving for having the bad luck to ever see your sorry, stupid face in the first place. I understand that the Army even has a medal for them, the 'Iron Larynx' award.
>Televangelist
Screaming, pleading, profusely sweating, hopping around the pulpit or pounding a podium, these are all part of the preacher act. It's hard, physical work, that's for sure, and loudmouths seems eminently qualified to fill the bill. Just think how perfect this gig is. They get to hear their own voices, wrapped in sanctimony, as they (no pun intended) pontificate about life, love, and whatever else it is that they know absolutely nothing about. But that's okay, since they do claim, like Hebrew National hot dogs, to "…answer to a higher authority."
>Social Director
Whether you've been to an all-inclusive resort, or taken a cruise, or been anywhere where this type flourishes, you know them all too well. You can't stop the constant drone during every day of your vacation (it ends up feeling more like a jail sentence). You could be whacked by the runs, soaked by rain and stuck with a backed-up toilet and an air conditioner that just died. It doesn't matter at all to the social directors. They will continue, loudly, via a tinny but all-permeating PA system, to infuse the already polluted air with their special brand of sugary optimism, bordering on insanity.
>Auctioneer
Loud, brash and exaggerated, auctioneers are deservedly notorious for having big mouths. Braying their wares and offers into hand-held microphones, they orally lurch forward, usually in some badly ventilated and overly bright room. Their staccato beat, and the deliberately fast and garbled game of competing bids that they play, s almost comical, or at the very least sounds just like gargling. They go on and on, hyping one item of 'priceless' whatever, after another. Auctioneers, like so many of their loud-mouthed colleagues listed above, are as in love with their own sound as the mythical Narcissus was with his image. He, at least, was quiet about the whole thing.
If there are any other irritating and repellent types that you'd like to see inducted into our 'place of disgrace,' do let us know!  What other loudmouth jobs drive you batty?
This is a post by Victor Kipling.