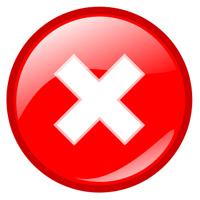 You've brushed those butterflies aside and are ready to brace your first day on the job. Good luck! Just be sure you don't make these four workplace mistakes.
DON'T Be Late
So you've done the hard work and proved to your employers that you're worth bringing on board. You've got your brand new work clothes, some pens and perhaps a brief case, and then you go and ruin the whole thing by turning up late. All employers will be keeping a close eye on your arrival time on the first day as this will likely suggest to them what your work attitude is like. If you come into work anything but early or spot on, you're putting yourself in the firing line before the gunners have even had a chance to load. Don't even think about excuses either. The bus may have been late, there may have been ice on the road and the dog may have eaten your brand new suitcase, but not of that will matter to your boss, who'll say that "you should have planned for such eventualities"…and they'll be right.
DON'T Answer Back
People tend to get high up in a company by being determined, professional and having high emotional intelligence. Because they have worked hard to get to a managerial role and have honed their business skills, it's not likely they will appreciate being talked to as if they were children. I've seen people talk back to their boss on numerous occasions – it never works and it's not pretty. You'll only succeed in angering your superior and there is a high chance they'll hold it against you for a while. It is a much better idea to try and see your boss's point of view, and if you can't, just bite your lip.
DON'T Flirt
Maybe you think you're God's gift to women, or sexy siren who can seduce any man, but please leave your romance projects out of the workplace, at least for a few months anyway. There is no better way to alienate yourself in your new workplace than by trying it on with everything that has a pulse, and you should certainly learn the lie of the land before you accidently ask out the boss's wife. By all means be friendly and smile at people you meet, but don't be tempted to throw a cheeky wink in there or entertain the idea of slapping the secretary's behind.
DON'T Use Your Phone
The technological revolution might be marvellous, but it has created one of the biggest bugbears for employers – using mobile (cell) phones at work. This is even more annoying when people have very loud and offensive ringtones or text message tones, such as aggressive rap music or explosion noises. The main reason why using your phone at work doesn't go down well is because it is a clear overlap between work time and social time. To put in another way, when you're talking to Sandra about her holiday romance in Barbados, you're not working out next year's financial projections in an Excel spreadsheet. Make sure your personal phone is on silent or better yet switched off.
This is a guest post by Duncan, a small businesses owner and blogger for a bad credit credit cards company in the UK.