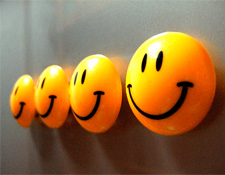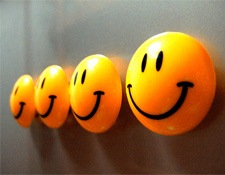 Slaving away day after day, anxiously waiting for happy hour and the weekend, and feeling unchallenged and limited? If you find yourself complaining about any of these things—it's time for a change. The average American spends 8.7 hours of the day in the workplace, according to the US Bureau of Labor Statistics. Instead of spending those hours counting down to 5:00 PM, it's up to you to assess your problems with your work and make decisions based around your workplace happiness.

Step 1: The first step is to think about and realize whether or not you are happy at work.
Development of job happiness assessments at CareerBliss, such as the BlissFinder, is led by Brad Brummel, Ph.D. in Industrial/Organizational Psychology from the University of Illinois at Urbana-Champaign. Based on his research, we found that job attitude can be evaluated based on 10 facets of happiness…
•    The Person You Work For— the relationship you have with your boss
•    The People You Work With—the relationship you have with your coworkers
•    The Place You Work—the quality and appeal of the building/setting in which you work
•    The Support You Get—the tools, resources, and technology you have to get your job done
•    The Rewards You Receive—the overall compensation for doing your work
•    The Growth Opportunities Available To You—the ability to improve and move up
•    The Culture of Your Company—the lifestyle of your workplace environment
•    The Work You Do—the specific tasks and projects you are responsible for
•    The Way You Work—he  control you have in getting your job done
•    The Company You Work For: the reputation and vision of your company
Step 2: After considering some of the above factors of happiness, take the BlissFinder to see how you actually rank.
Using the BlissFinder tool, you have the opportunity to pin point exactly how you feel about your workplace. Brummel and his team combined questions both about your emotions and about the workplace itself to give you the most comprehensive feedback. The questions really ask you to dig deeper and consider your honest feelings about your work. For each of the factors, you will be asked to determine how important each factor is to your happiness.
The BlissFinder compares your happiness level—both overall and based on individual factors—with others as well. Best of all, the BlissFinder also highlights the top two factors that make you happy and unhappy, based on your responses. So, the tool can really help you target your issues.
Step 3: Now that you know what is important to your job happiness, it's time to make a change.
At the end of the assessment, BlissFinder not only allows you to consider how your happiness compares with others in the workplace but also pairs you with jobs that better match your happiness. This can help narrow your search about specific companies on and how they rank compared to the industry average as well.