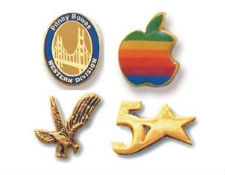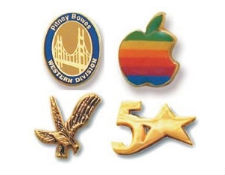 When Andrew suggested the post idea of corporate "years of service" awards, I had no clue it was such a hot-button topic. When I put out the call for people to share their company gift stories, several common themes emerged:
* My company is CHEAP!
* Why bother?
* Who wears LAPEL pins?
* They provide comic relief.
So, Corporate American, listen up. Here's what your employees think.
Cheapies
"IBM offers a fine selection of landfill worthy items – any one of these fine items can be yours for just TEN YEARS of service!
* A "Henkel's" Knife Set (Made in China not Germany) and usually on special at Bed Bath N Beyond for $69.99 or less (Someone needs to tell them it's bad luck to give knives as a gift.)
* A truly hideous Cut Glass and Brass table Lamp, usually available at most Goodwill stores for $4.99 or less because no one wants them…
* God-awful nylon pull behind weekender suitcase made of various forms of plastic and supposedly a $150 value and with a handle length perfect for anyone under 5'2″.
With selections of such junk, they ought to just give out dinner for two gift certificates to McDonalds and be done with it. Whomever OK'd the gift catalog ought to be ashamed, as it's insulting at best."
#########
"Unfortunately, just before (my husband's) 15-year anniversary, his company merged with another and instead of using 'his' company's catalogue (which had nice gifts), they gave him the new company's catalogue. Lots of women's costume jewelry, pens, casserole dishes — stuff that looked more like fifteen dollars than fifteen years. He picked the least worst: a modern clock that would look nice in our new house.
Several weeks later it arrived. The thing was made of plastic and has never worked. I offered to send it back to the manufacturer (or importer, I guess) for repair, but he wanted to keep it as a reminder of the cheap cr*p they offered him for many years of loyal service. So, for us, it's always 5 after 2:00."
Lapel Pins, Etc.
"I don't know anyone who wears ANY type of lapel pin, let alone anybody who would proudly wear one with their employer's logo. This thing was so tiny you almost needed a microscope to see it. A co-worker had to sit through the un-ironic presentation of this stunning gift with a straight face. He came back the next day wearing it as an earring to see if anyone noticed. Nobody did."
"I got a tie tack after 15 years with Young Life. Honestly, who uses a tie tack?"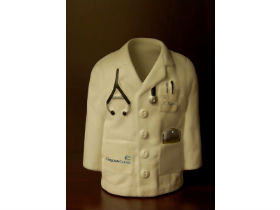 (Unintentionally) Funny
"My friend Pamela's five-year gift at a legal firm was a crockpot. In New York City! We still laugh about this."
"Please see attached photo of the pencil holder we received as our one-year gift of service at our hospital. We call him 'Headless Coat Man.'"
Gift that keeps on Giving

"I think our gift (at my last firm) was all being made redundant [laid off] at Christmas, on Christmas day. Only later to have the company 'Phoenix' from the ashes and none of us to be re-employed. As it was Christmas, I think it counts as a gift."
Here's Your Challenge
So these gifts sucked overall, but you have to love the humor factor! Tell me what WOULD be a thoughtful and appreciated "years-of-service" gift from your company? Stay tuned for Part Two!
This is a post from regular Jobacle contributor Nancy LaFever.