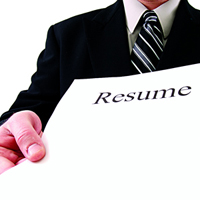 Obreanna McReynolds is a guest blogger for Pounding the Pavement and a writer on technical schools for Guide to Career Education.
In today's competitive job market, standing out from the crowd has become at once more important, and more difficult, than ever. As desperate as many job-seekers may feel, employers are just as eager to find that one superstar hire buried in the thick stack of cover letters and resumes. Luckily for both parties involved, the tools for building a polished, marketable and most importantly hirable personal brand have exploded in recent years thanks to the rapid expansion of online networking technologies.
For the job hunters of the twenty-first century, submitting a paper resume is just one piece of a much larger equation. The most competitive candidates supplement, or even replace, their printed materials with virtual resumes, online portfolios, and social media profiles. Especially for those interested in telecommuting, online credentials offer a host of advantages over more traditional application materials.
Like any resume, the virtual version conveys an applicant's qualifications, strengths, and work history. The major difference is the delivery platform. A number of sites offer free hosting, and most also provide customizable templates. Rather than going through the hassle of mailing a physical CV or formatting a document for email, a job seeker can connect with potential employers instantly simply by sending a link to the resume they've created online. Virtual resumes can be updated in real-time, giving employers access to the most up-to-date information possible, be it a link to a new web publication or information about a recent achievement. Plus, many host sites allow companies to search the resume database for candidates with desirable traits, a process that streamlines the hiring process for everyone involved.
The online portfolio expands on the benefits of the virtual resume by giving job hunters the chance to gather and show off all of their best work in one place. Again, a range of sites exist for the sole purpose of providing users with an easy platform from which to display their work; some sites even specialize by field, exclusively catering to graphic designers, writers, or academics, for example. In combination, the virtual resume and the online portfolio paint a detailed and comprehensive picture of the talents an individual has to offer.
Ultimately, the key to becoming a virtual hot commodity is staying marketable, and the key to doing this is building a professional and current online presence. A well-developed online presence demonstrates an applicant's technological savvy much more effectively than a single resume line ever could. An online resume or portfolio proves to employers that an individual can navigate the internet thoughtfully and thoroughly, and can create something meaningful while working under self-direction. The better an individual's online presence, the more opportunity he or she has to be seen by, and to impress, companies looking to hire.
Useful Links:
Carbonmade – Use Carbonmade to build and manage an online portfolio for free. Especially good for designers, illustrators, and digital media professionals, the site provides personalization and performance, with a polished interface sure to impress potential employers.
OPResume – On top of allowing users to create an online resume and portfolio in the same place, OPResume offers a number of additional free resources, such as job search tools, message boards, and industry news.
Optimal Resume – Optimal Resume's award-winning suite of online tools helps job seekers research careers, build better resumes, manage their portfolios online, and develop a personal web brand. The site even allows users to create a video resume, which communicates not just qualifications, but personality.
Shown'd – Shown'd's free online portfolios allow users to showcase work samples, a resume, and a personal statement, all in one place. Search for jobs at the same time, connecting with employers who know exactly what they're looking for.
VisualCV – VisualCV is free to use, and has a straightforward interface that allows for easy customization. Users may create multiple resumes, and can even include audio and video content to supplement their qualifications. The site then provides each user with a unique URL that they can share with employers, customers, and colleagues.