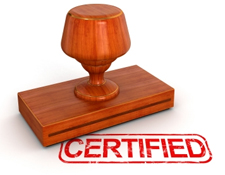 A great resume is, of course, essential in any successful job search, but there are some excellent ways that you can help your resume stand out. What to add on a resume to get yourself noticed? Want to jump ahead of the pack? One savvy way to set yourself apart is through obtaining the right certification. This is an edge that most jobseekers overlook. In this article, we will examine 5 certification courses that will elevate your resume even in a crowded field.
1. ACLS and/or CPR Certification
Advanced Cardiac Life Support (ACLS) certification is a group of medical techniques that are used to treat life threatening cardiac emergencies including stroke and cardiac arrest. ACLS Certification can help give your resume a little extra pop no matter what kind of job you want to land. After all, what employer doesn't want someone on the team with the ability to potentially save a life?
Just as ACLS certification can help you show that you can handle yourself in an emergency situation, the same is true for CPR Certification. Obtaining a CPR certificate shows that you think ahead, are reliable and might just be a lifesaver.
2. Statistics Certification
If statistics are your thing and you love numbers, than consider obtaining a Statistics Certification. Statistics play a role in every business and job, even if most people are unaware of this fact. You can show that you are flexible and capable by earning this certificate.
3. Business Writing Certificate
Effective writing and communication skills have not gone out of style. Employers love to know that their employees can communicate effectively, and with a Business Writing Certificate, you can show that you too value strong communication.
4. Computer Skills Certificate
Computer Skills are a must in today's business environment. The bottom line is that employers have very little patience for employees that don't have a working basic knowledge of computers. Thanks to a Computer Skills Certificate, you'll be able to clearly demonstrate that you the basic computer skills needed for an array of jobs. Whether it is something as basic as sending an email, using social media or creating a spreadsheet, the Computer Skills Certificate shows employers that you will understand basic computer and internet skills from day one.
5. Office Skills Certificate
You may never plan on setting foot in an office environment, but an Office Skills Certificate shows that you are prepared, ready and thinking ahead. If your chosen profession is office oriented, then the Office Skills Certificate is a must-have addition to your resume. Employers want to know that you understand what it takes to work in the modern office environment, and with this certificate, they'll know you can handle the job.
Use Certificates to Help You Stand Out
Standing out is important especially in a competitive job market situation. When trying to determine what to add on a resume, there is a good chance that your competition has not taken the time to earn one, let alone several certificates. The second that you begin listing certificates on your resume, you can be sure that people will change their perception of you.
Earning certificates shows that you think ahead, want to help and care about doing a good job. Investing the time to earn certificates also strongly indicates that you are serious about helping your future employers and are willing to learn. That is exactly what any smart employer wants in a new hire.