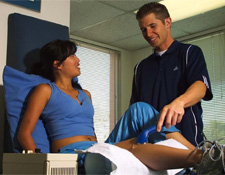 Ultrasound technicians are the health care professionals who capture images of human organ and tissue by using sound wave technology, which are later used to monitor and diagnose the varieties of medical conditions. The ultrasound technician training programs typically combine clinical, laboratory and classroom instruction.
Training Recommendations and Requirements
Ultrasound technicians or sonographers develop their skills in managing and operating ultrasound machines. This enables them to carry out different procedures to develop precious medical images. The examinations of ultrasound technicians are regulated by the American Registry of Diagnostic Medical Sonographers (ARDMS). These days, most of the organizations give high priority to those technicians who have completed the accredited training programs.
Usually, the training programs include the coursework, such as patient assessment, human anatomy and medical terminology. These technicians must also have good communication skills to ease the nerves of patients during medical procedures. They must also develop their skills in image selection and evaluation.
Formal Education
The ultrasound technician degree programs are being offered by universities, colleges and technical schools. Most of the aspiring ultrasound technicians prefer to choose 2-year associate's degree programs, though the option of bachelor's degree is also available. A minimum of high school degree with coursework in mathematics, basic sciences and health is required to be eligible for this program.
An associate's degree program consists of clinical hours in health care facilities, hands-on practice labs and in-class lectures. Normally the lecture topics include abdominal scanning, vascular technology, obstetrics, patient care techniques, medical ethics, anatomy, basic physics and acoustic principles.
A bachelor's degree program of four years offers in-depth coursework in different specialties of ultrasound. Students obtain the knowledge relating to gynecological, obstetric and abdominal ultrasound procedure through classroom instruction and clinical internship.
Job Experience
Most employers consider the hand-on clinical training of the formal programs is sufficient for the entry-level positions. However, a minimum of five years of experience in ultrasound is required to get the job opportunities in administration and management.
Certifications and Licenses
It is not obligatory for ultrasound technicians to be certified or licensed, however most of the employers give preference to the technicians who are certified from ARDMS. Apart from ARDMS there are other certifying bodies, such as Cardiovascular Credentialing International and American Registry of Radiologic Technologists. Certification offers the measure to the level of skill and understanding of an ultrasound technician.
In order to acquire the Registered Diagnostic Medial Sonographer (RDMS) designation, application need to successfully pass the exam carried out by ARDMS. After passing the exam, candidates can be registered in different specialties, such as abdominal, nervous system or breast imaging.
Seminars and Workshops
Annual workshops and conferences concentrating on the ultrasound sector are provided throughout the nation. These workshops offer opportunities for professional development in different areas, such as instrumentation enhancements, ultrasound techniques, technological advances and diagnostic accuracy. Ultrasound technicians and medical practitioners from around the world take part in such events. The conventions sponsored by the Society of Diagnostic Medical Sonography and the American Institute of Ultrasound Medicine are considered the best.
Author Bio: Scott Garcia is a career counselor and a blogger. Find out his views regarding online X-ray Technician classes right from his articles.