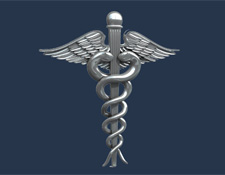 When considering career options, the future job prospects of the industry is an important consideration. It's wise to consider job markets that will expand in opportunities over time, giving you greater assurances of continued employment thanks to growing demand. While some job markets are projected to remain stagnant or even decline over the next decade, others are expected to boom in demand in the coming years, making them great avenues for earning a consistent income and enjoying long-term job security.
Consequently, more and more professionals are considering the completion of a medical assistant program to equip them with the skills and training needed to excel in the medical field. The job and its requisite training can fit well into a variety of lifestyles, attracting younger workers and single moms as well as professionals looking to gain experience before pursuing careers in nursing or healthcare administration.
The demand for medical assistants
Medical assistant jobs are expected to grow much faster than the national average for all jobs. According to the U.S. Bureau of Labor Statistics, the number of medical assistant jobs in the United States is expected to increase by 31 percent between 2010 and 2020.
Part of the reason for this increased demand is that physicians nationally are more interested in focusing their efforts on serving patients and increasing their patient load. Medical assistants can alleviate some of their other work burdens, such as handling administrative duties and basic clinical tasks. In the process, those medical assistants looking to advance to other roles in the healthcare field can gain valuable experience working under the guidance of a doctor.
The details of the job
Of course, many people find medical assistantships to be rewarding careers. As of 2010, the median pay for medical assistants in the United States was nearly $29,000 annually. A combination of classroom and on-the-job training can be used to prepare yourself for work as a medical assistant. One-year certification programs are available, and some jobs will require specific training to fulfill the duties of certain specialty fields. The work environment is clean and safe, and most positions are full-time.
As far as specific job duties, your expectations can vary depending on the type of office you work in. A medical assistant at a general practice, for example, may have different responsibilities than an assistant in a specialized office, such as that of a podiatrist or chiropractor. Those job duties might matter more to someone trying to gain experience in a specialized field in hopes of later advancing to other positions within those fields.
For anyone interested in entering the medical field without enduring lengthy educational processes, serving as a medical assistant is one of the best options available to you. Medical assistants can get first-hand experience working directly with patients and gaining exposure to various treatments and processes administered in a clinical setting. The job requires stress management and strong organizational skills, but if you