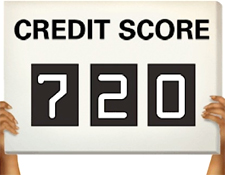 I was at lunch with a girlfriend the other day, whose credit is basically screwed thanks to college loans for a career in a field where she can't find a job. She's been looking for work for more than a year now, and can't find a job in any field because employers are checking credit ratings now more than ever before.

"If I can't find a job to pay off bills, how am I supposed to improve my credit rating?" she ponders.
While this is true, in general, if you have bad credit and are unemployed, don't give up hope!
Here are three steps you can take to improve your credit rating and increase your chances of finding a job.
1. Request your credit reports. – Knowledge is power and the first step to improving your credit score is knowing what's wrong on your credit reports. You may find a lot of inaccuracies in your credit reports that are driving your score down. If you find any inaccuracies in any of your three credit reports from the major credit bureaus (Experian, TransUnion and Equifax) file a credit report dispute to make the corrections.
2. Have a note included in your credit reports. – You can have a note explaining the circumstances that led to your poor credit score included in your reports. Divorce? Adjustable Rate Mortgage? School loans?
Especially in the case of a job search, knowing the reasons behind your poor credit may help employers view you as an individual, rather than evaluating you simply based on those three numbers that are supposed to represent your standing as a credit risk.
3. Consider your options. – If you file for bankruptcy, the moment the bankruptcy goes through you can begin repairing your credit. Depending on a number of factors, a bankruptcy will affect your credit score by about the same amount as defaulting on revolving debt. But if you continue missing payments your score will continue to drop. Once you declare bankruptcy, you can start counting down to 10 years, when the bankruptcy will no longer show in your credit file. You can also begin rebuilding your credit with secured credit cards like the Orchard Bank Mastercard if you can handle credit safely and responsibly.
If you have trouble with debt and it's keeping you from finding a job, you can also seek credit counseling through the National Foundation for Credit Counseling.
Guest Bio: A not-quite-reformed shopaholic, Dawn Allcot is a personal finance blogger at CreditShout.com</a>, and is on a personal journey to financial freedom and no debt by 2012. She transformed her addiction to Starbucks pumpkin spice lattes into an addiction to researching credit card rewards programs and personal budgeting software, which has turned out to be far more healthy and profitable.